Bubble is a NFC transmitter to be used with Freestyle Libre® to read your blood glucose levels every 5 minutes. Its transmision to your mobile phone via Bluetooth allows you to manage your glucose levels and to set up hyper and hypoglycemia alerts via software.
Settings:
SLIM DESING
Bubble has been nicely designed to avoid edges that put your sensor at risk. Reset hole has been removed to make the device water resistent.
Dimensions: 40mm x 30mm x 7 mm
Weight: 8 grams
WATERPROOF
Bubble is waterproof and can be used in an acquatic enviroment in the same conditions as  Freestyle Libre® (2meters / 30minutes).
RECHARGEABLE
Bubble uses a rechargeable battery with a life time of over 10 days. The battery cannot be recharged while the device is placed over the sensor due to security reasons to avoid risks for the use. Thanks to the magnetic charger supplied you can complete a total recharge of the unit in less than two hours.
COMPATIBILITY
Bubble is an open source device compatible with different app from the DIY (do it yourself) community and can be used simultaneously with Abbott Reader.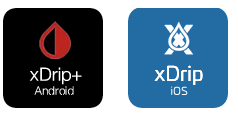 BOX CONTENT:
Bubble Device  (1 unit)
Magnetic Charger  (1 unit)
Stickers  (20 x 4 units)